Regional TV News is a Philippine television newscast show broadcast by GTV. Originally known as GMA Regional TV Weekend News, It premiered on July 27, 2019, which airs every Saturday from 6:15 PM to 7:00 PM on its primetime block on GTV and airs worldwide on GMA News TV.
GMA Regional TV Weekend News is the only English newscast of GMA Network and the sole national newscast of GMA Regional TV. It delivers different news from the different regions in the Philippines, sourced from Balitang Amianan (GMA Dagupan), Balitang Bicolandia (GMA Naga), Balitang Bisdak (GMA Cebu), One Western Visayas (GMA Iloilo & Bacolod) and One Mindanao (GMA Davao), plus news reports from stringers in the GMA Batangas (Southern Tagalog) and Puerto Princesa (Palawan) areas; a format similarly to Balita Pilipinas Primetime and Balita Pilipinas Ngayon.
Every week, GMA Regional TV anchors will take turns in bringing the latest news from all over the Philippines straight from its respective home studio; which during the first month on air, conincides with the relaunch of its respective newscast to pattern with the national counterpart, starting with Balitang Bisdak on July 29, followed by Balitang Amianan on August 5, One Western Visayas on August 12, and finally One Mindanao on August 19.
Originally delivered in English since launch, the newscast shifted its medium of delivery to Filipino since September 12, 2020.
With the rebranding of GMA News TV to GTV on February 22nd, 2021, GMA Regional TV Weekend News removed the "GMA" corporate name from its title five days later on February 27th.
On July 26, 2021, the program was rebranded as Regional TV News which airs every Monday to Friday from 9:00 AM to 9:30 AM and every Saturday from 10:00 AM to 10:30 AM.
GMA Regional TV Weekend News
July 27, 2019 - February 20, 2021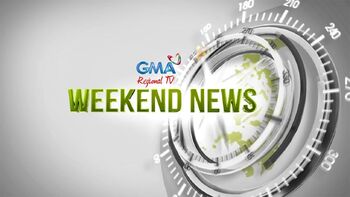 Regional TV Weekend News
February 27, 2021
March 6, 2021 - July 24, 2021
Regional TV News
July 26, 2021 - present