This page only shows primary logo variants.
For other related logos and images, see:
Reshet 13 is one of two commercial free-to-air TV channels in Israel, along with Keshet 12. Both channels were launched on 1 November 2017, replacing Channel 2 (Arutz Shtaim), which was run jointly by Keshet and Reshet.
Reshet 13 merged with competitor Eser on 16 January 2019. Since then, it is also known as simply Channel 13 (Arutz 13).
June–November 2017 (prelaunch)
November 2017–2019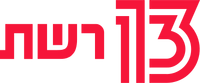 Reshet (a concessionaire for Channel 2 since its foundation in 1993) got its own TV frequency after Channel 2 closed its operations on 1 November 2017. Keshet Media Group also got its own frequency on Channel 12, while Channel 10 rebranded to Eser and moved to Channel 14. All three channels launched their HD feeds on the same day.[1]
2019–present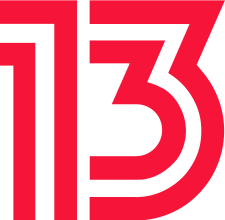 On 8 November 2018, Eser received approval to merge with Reshet 13.[2] As a result, Eser's news division was absorbed by Reshet. Reshet sold its stake in the Israeli News Company, which is now owned entirely by Keshet. Eser closed down on the midnight of 16 January 2019, and Reshet 13 removed the Reshet wordmark from its logo, leaving only the numeral 13.
This meant that Israel once again has only two commercial free-to-air TV stations, Keshet 12 and Reshet 13.[3] This had been the case before 1 November 2017, except they are now run separately by Keshet and Reshet, rather than the Keshet–Reshet combine that managed Channel 2 and a different company, RGE Group, that managed Eser.
References