Robi (meaning sunray), formally Robi Axiata Limited and previously Aktel GSM, is Bangladesh's second-largest mobile network operator behind Grameenphone and ahead of Banglalink. After its acquisition by the Axiata Group of Malaysia, it adopted its current name in 2010.
Aktel GSM
1997–2010
Axiata Group bought a controlling stake in Aktel in 2008.
Robi Axiata
2010–present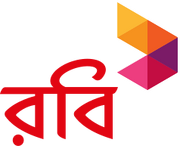 After Axiata's acquisition of Robi, it unveiled a new logo and brand identity on 28 March 2010.
In 2016, Airtel Bangladesh merged its services with Robi. However, the merged entity retains Airtel as a separate consumer brand.
Indian operations:
Mobile telecommunications: Airtel | Tata Docomo1 | Satellite DTH television: Airtel Digital TV | Internet video box/stick: Airtel Xstream
Mobile apps: Video-on-demand and mobile live TV: Airtel Xstream | Music streaming: Wynk Music
---
Overseas operations:
Bangladesh: Airtel (Robi)2 | Channel Islands: Airtel-Vodafone3 | Sri Lanka: Airtel (Sri Lanka)
Africa: Airtel4 (Chad, DR Congo, Gabon, Ghana5a, Kenya, Malawi, Madagascar, Niger, Nigeria, Rep. Congo, Rwanda5b, Seychelles, Tanzania, Uganda and Zambia)
Former operations6: Burkina Faso | Sierra Leone
---
Defunct operations: Telenor (India)7
---
1Formerly a joint venture between Tata Group and NTT docomo. Acquired from Tata by Airtel.
2Joint venture with Axiata.
3Joint venture with Vodafone.
4Acquired from Zain.
5aJoint venture with Millicom.
5bAcquisition of Tigo Rwanda from Millicom is pending.
6Acquired by Orange S.A..
7Acquired from Telenor and closed.