Sci Fi Channel
2006–2012

Despite sharing the branding of the American Sci Fi, the Australian Sci Fi Channel was majority owned and operated by TV1 General Entertainment, who also managed TV1. Sci Fi Channel boasted different shows and scheduling to its American counterpart.
SF
2012-2013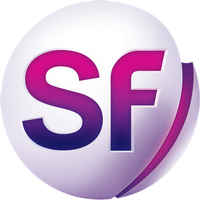 Sci Fi Channel was rebranded SF on 23rd July 2012, introducing both a new logo and on-air presentation created by Sydney-based Ink Project. The new logo was accompanied by a new primary tagline "we are sci fi" and a set of secondary taglines reading "we are [adjective]". By this point, the American Sci Fi (now known as Syfy) hadn't used the planet logo for two years.
This identity would be short lived as Foxtel failed to secure a carriage deal with TV1 General Entertainment for 2014. With no other nation-wide subscription TV services, SF was set to close. This included sister channel TV1, whose bandwidth was taken over by Foxtel's TV Hits. SF's feed was replaced from 1st January 2014 by the Australian branch of Syfy Universal, albeit without the Universal brand.
Community content is available under
CC-BY-SA
unless otherwise noted.