2006-2010
After all the other SVT channels had their logos changed in 2008 and 2009, SVT HD was the only SVT channel to still use the SVT starflower in its logo.
March 2010-September 2010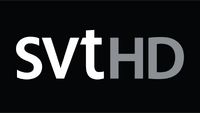 This logo was adopted in March 2010 and is in the style of the logos of the other SVT channels.
SVT HD closed down on September 19, 2010, when a high-definition simulcast of SVT1 was launched.
Community content is available under
CC-BY-SA
unless otherwise noted.