Western Samoa Rugby Football Union
1962-current
Samoa Rugby Football Union
1997-1999
The "Western" part was removed as Western Samoa was renamed as Independent State of Samoa.
Samoa Rugby Union
1999-current
The "Football" word was removed from the logo to reflect its current denomination.
Lakapi Samoa
2021-present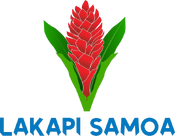 In 2021, the Samoa Rugby Union management changed the name to "Lakapi Samoa", using the Samoan word for "rugby". The previous logo, based on the Coat of Arms of Samoa, was replaced by a stylised teuila flower. However, many Samoans criticised the rebrand as they believe that the rebrand is a waste of funds, as well as the new logo being too much similar to that of New South Wales Waratahs.
1998-2021 (alternate logo)
Since 1998, Samoa had a logo representing a rugby ball with arms and legs with the inscrption reading "Manu Samoa", which is the Samoan team's nickname, named after a legendary warrior chief.
2021-present