Pre-launch
2016
The as yet unnamed "soccer startup" unveiled their logo on January 21, 2016, featuring the letters S and F (the latter in negative space) in a triangle.[1]
San Francisco Deltas
2016-2017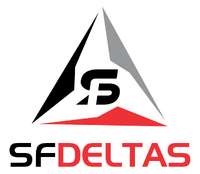 On March 29, 2016, the North American Soccer League revealed that the San Francisco Deltas would become the thirteenth NASL club.[2] Their maiden season was 2017, in which they won the league before folding.