1991–2007
The logo was designed by Terry Smith of Terry Smith Creations.
2007–present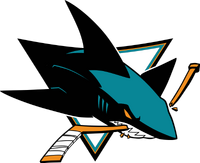 This modernized version of the original logo was also designed by Terry Smith.
2016-present
For the 2016-2017 season, the Sharks added three secondary logos to the brand, mainly for promotions and not to replace any of the current logos. These were once again designed by Terry Smith. For the 2017-2018 season, when the league switched to a new jersey type, the Sharks replaced its primary logo on the shoulders with the head version of the 2016 shark logo.