1991–2007
The logo was designed by Terry Smith of Terry Smith Creations. From 1991-97, the stick's color was slightly lighter than the one pictured here. One interpretation of the triangle in the logo is meant to denote the Red Triangle, a triangular area in the Bay Area, where many sharks are found, another one is to denote the three major cities of the Bay Area, San Francisco, Oakland and San Jose.
2007–present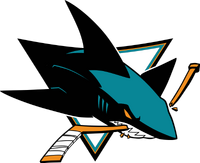 This modernized version of the original logo was also designed by Terry Smith. In this logo's first season, the teal was slightly darker.
2016-present
For the 2016-2017 season, the Sharks added three secondary logos to the brand, mainly for promotions and not to replace any of the current logos. These were once again designed by Terry Smith. For the 2017-2018 season, when the league switched to a new jersey type, the Sharks replaced its primary logo on the shoulders with the head version of the 2016 shark logo.