2004-2005
When Schneider's Bakery began production, we see that the 1950's style font. and oven are more darker the animation is more primitive, and the sparkles on the wallpaper are more clearer. The 'y' in the logo extends shorter than it's successor, with the trimming of the films being cut slightly open; this logo was seen in Seasons 1-2 of Drake and Josh, and a few episodes of Season 10 of All That.
2005-2019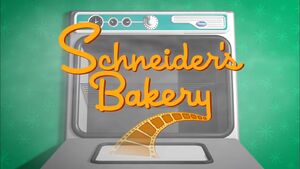 Starting in 2005, the font becomes more orange, the wallpaper, and oven are brighter than usual (causing the sparkles on the wallpaper to be faintly seen), the 'y' in the logo extends longer, with the film strips being more orange (the trimmings in the 'y' are secured.), the word "Deluxe" is now added onto the oven, and the oven's main dial given dots, and a complementary look; this logo debuted in Zoey 101, and from Season 3 of Drake and Josh. However, due to Dan Schneider "parting ways" in 2018, this logo has been removed in Episodes of Henry Danger produced for Season 5, leaving just the Nickelodeon Productions ident from 2009 at the end; the logo didn't fully disappear until Game Shakers aired their last Episode, "He's Back" in 2019.
Community content is available under
CC-BY-SA
unless otherwise noted.