Sci Fi is the Polish version of Syfy. Sci Fi was the former name for the International channels until 2010, but Poland retained its name 'Sci Fi' because it is a plural form of the word 'syf' that means 'syphilis' in Polish.
Sci Fi (first era)
2007–2010
Sci Fi Universal
2010–2017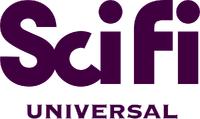 Sci Fi (second era)
2017–present
Community content is available under
CC-BY-SA
unless otherwise noted.