This page only shows primary logo variants.
For other related logos and images, see:
ATVN News
1963–1969
As of June 1968, the Australian Television News (ATVN) network comprised of ATN-7 Sydney, HSV-7 Melbourne, BTQ-7 Brisbane and ADS-7 Adelaide, with affiliated stations STW-9 Perth, MTN-9 Griffith, NRN-11 Coffs Harbour, TNT-9 Launceston, BTV-6 Ballarat, GMV-6 Shepparton, RVN-2 Wagga Wagga, AMV-4 Albury, CBN-8 Orange and CTC-7 Canberra with average national viewing figures reaching more than 3 million for its nightly 6:30PM newscasts.
Seven National News
1969–1975
1975–1985

1985–1988

Seven Nightly News
1988–1989

1989–1994

1994–1999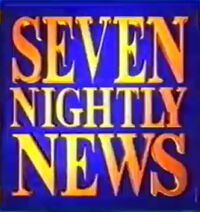 1999-2000

Seven News
2000-2004

2004–2020
2004–2011

2011–2016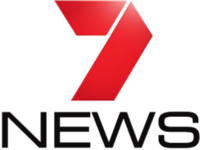 2016–2020
2020–present

Community content is available under
CC-BY-SA
unless otherwise noted.