PepsiCo created Sierra Mist (at one time known as Mist Twst), a lemon-lime flavored soda, in 1999. Sierra Mist  has since become a competitor with rival Coca-Cola's Sprite and Dr Pepper Snapple Group's 7 Up.
Sierra Mist (first era)
1999-2001
On February 3, 1999, the first Sierra Mist logo used includes the lemon & lime on top of the "Mist" word & next to the "Sierra" word, as well as the logo being put on a blurry green background.
| | |
| --- | --- |
| | BETTER LOGO NEEDED |
2001-2005
On August 1, 2001, PepsiCo jazzed up Sierra Mist's logo with blue, yellow and black boxes, lemon and lime, mountains, and a more jazzier font for the name "Sierra Mist".
2005-2008
On January 15, 2005, PepsiCo revamped Sierra Mist's logo with a different font for "Sierra Mist" and a sun behind the mountains. Notably, the boxes used in the 2001-2005 logo were omitted (as well as the lemon/lime for a period of time).
2008-2010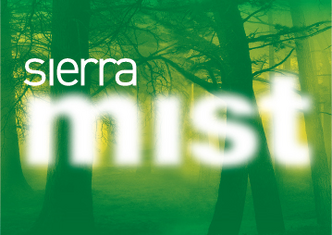 On August 6, 2008, PepsiCo changed Sierra Mist's logo completely. The "Mist" part of this logo became blurry and was added a green forest background. Then the font was changed as well and the mountains were dropped. It has been notably known as the worst "Sierra Mist" logo in the drink's history.
March 20-August 29, 2010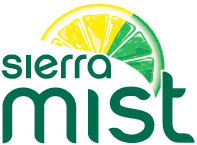 On March 20, 2010, in response to the negative reception of 2008-2010's logo, PepsiCo revamped Sierra Mist's logo once again. The logo was given a neon look, also returning the lemon and lime seen from 1999-2006; but this time, they shared the slice seen in the logo. The font was also changed as well. The logo was short-lived; PepsiCo changed the logo later that year.
2010-2013
On August 29, 2010, when PepsiCo changed their ingredients for Sierra Mist (removing high-fructose corn syrup), the company added the word "Natural" to Sierra Mist's logo. Pepsi also changed the background to a water-like version. There also is a lime and a lemon. Then the font was changed as well.
2013-2016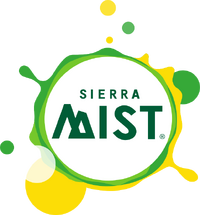 Once again, PepsiCo removed their lemon and lime, and gave their soda a more modern look to it. This logo was introduced in August 2013.
Mist Twst
2015-2018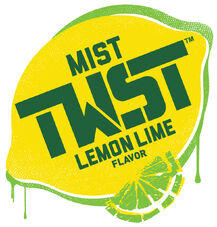 In December 2015, Pepsi announced the name of Sierra Mist would be renamed to Mist Twst in spring of 2016. They have also put back the high-fructose corn syrup into the drink. This is still in use in some stores despite the name change.
Sierra Mist (second era)
2018-present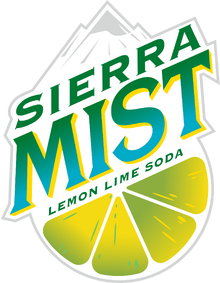 In summer 2018, Mist Twst went back to its former name, as well as switching back to real sugar instead of high-fructose corn syrup.
External links