2009–2010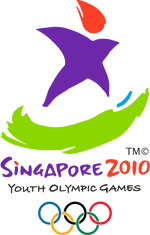 | | |
| --- | --- |
| Launched:  | 12 January 2009 |
On 12 January 2009, the emblem logo for the inagural Youth Olympic Games was introduced. The logo represents the youth of the world coming together.
Mascots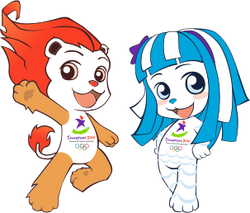 Species: 
A red male lion (Lyo)
A blue female merlion (Merly)

| | |
| --- | --- |
| Designer:  | Cubix International |
On 21 November 2009 the mascots were revealed: Lyo (short for Lion of the Youth Olympic Games), a lion that is a fun-loving sports lover and inspires young people to keep fit and enjoy sport for life. He symbolizes young people's boundless energy, their determination to live life the fullest and zeal to strive for excellence. Merly, a merlion that is a passionate advocate for environmental protection and believes that everyone has a role to play in working towards a sustainable future. She also wanted to encourage young people to play an active role in the communities and promote respect for one another. Both mascots were designed by Cubix International.