Corporate brand
SPT Telecom (Státní telekomunikační podnik)
19??–1993
| | |
| --- | --- |
| | LOGO MISSING |
Slovak Telecom
1993–2004
| | |
| --- | --- |
| | LOGO MISSING |
2004–2006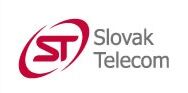 Following the acquisition of most of Slovak Telecom by Deutsche Telekom, it introduced a new logo in 2004. At the time, it was one of the few subsidiaries of Deutsche Telekom not to use the magenta T logo.
Slovak Telekom
2006–2013

Slovak Telecom became Slovak Telekom in February 2006 to reflect its ownership by Deutsche Telekom.
2013–present
Consumer brand
Eurotel
1990–1993

Eurotel was founded in 1990 as a joint venture between SPT Telecom, US West (now part of AT&T) and Bell Atlantic (now part of Verizon Communications).
Eurotel Bratislava
1993–2005

Following the split of Czechoslovakia into the Czech Republic and Slovakia, Eurotel split into Eurotel Bratislava and Eurotel Praha (now O2). Eurotel Bratislava continued to use the 1990 logo until 2005.
T-Mobile
2005–2010

The Eurotel brand was replaced by the T-Mobile brand in 2005.
Telekom
2010–2013
The T-Mobile brand was replaced by the Telekom brand on July 1, 2010.
2013–present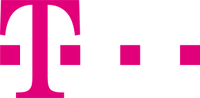 See also