"Smith's" redirects here. For the American supermarket chain, see Smith's Food and Drug.
Smiths Crisps (UK & Australia)
19??-2003 (Australia)
| | |
| --- | --- |
| | BETTER LOGO NEEDED |
The Smith's Snackfood Company was founded as Smith's Potato Crisps Ltd in 1920 in the UK. In 1931, Smiths was expanded into Australia. The Smith's brand was purchased by PepsiCo, the Smith's brand in the UK was largely morphed into Walkers although some Smith's products have remained under the Smith's branding. In Australia, the Smith's brand has remained.
Smith's Chips (Australia)
2003-2016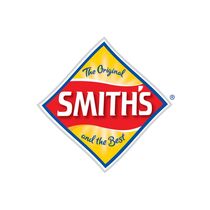 | | |
| --- | --- |
| | BETTER LOGO NEEDED |
In 2003, Smith's Crisps were rebranded as Smith's Chips, the rebrand was accompanied by a major logo redesign.
2016-Present
In Late September of 2016, Smith's Chips unveiled a new logo and branding that is more like the Lay's and Walkers logo and branding as it has gold in the logo and has a ring like Lay's and Walkers logos.
It is only the second major refresh in the company's 96 year history.