Contents

2005–2009
2009–2014
2009–2014
Bidding & Interim
2005–2009

Olympics
2009–2014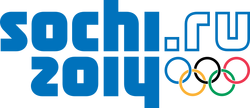 The official emblem of the Olympic Games for Sochi 2014 was presented on December 1, 2009. It was the first Olympic logo to be in the form of a web address, a way to reflect the time during which the games were to take place, i.e. the games were going to be very digitally reported and recorded. It also distinguishes itself from other Olympic logos by mostly consisting of a wordmark and not using symbols other than the Olympic rings. The visual identity was created by Interbrand.
Paralympics
2009–2014
Mascots
The shortlist designs were presented to the public on February 7, 2011. A nationwide campaign to choose for their favorite mascot was also announced on that same day. The final results were decided on February 26, 2011. The Leopard, Hare and Polar Bear became the Olympic mascots while The Snowflake and Ray of Light became the Paralympic mascots.
Community content is available under
CC-BY-SA
unless otherwise noted.