Sony Six is an Indian sports TV channel owned by Sony Pictures Networks India. Launched in April 2012 as the first sports channel of the broadcaster, it has since grown to be a channel focused on cricket, the country's most popular sport, after SPN greatly expanded its sports portfolio in March 2017 with the acquisition of the Ten Sports network from ZEEL.
Sony Max HD
2011 (screengrab)
A pop-up sports channel called Sony Max HD was launched for the 2011 and 2012 seasons of the Indian Premier League. While it was named after the SD channel, which shows Hindi movies, it itself showed only IPL broadcast coverage, and only during match hours.
A different Sony Max HD (the full-time HD feed of the Hindi movie channel) was launched on 25 December 2015.
2012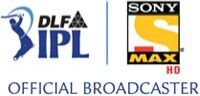 The only difference from the previous logo is the addition of the word SONY on top of the existing Max HD logo. This change had been implemented on other SPN channels on 1 September 2011 with the launch of Hindi music channel Sony Mix, which closed down in March 2020 along with Sony ESPN.
Sony Six and Sony Six HD
2012–2017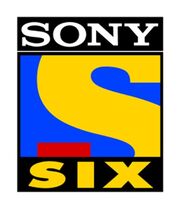 Sony Max HD was replaced by a permanent sports channel called Sony Six HD after the 2012 IPL. Sony Six HD was the broadcaster's first HD channel, having been launched on 7 April 2012 (alongside an SD version). After the IPL season ended on 27 May 2012, an HD version of SPN's flagship channel, SET, was launched the next day (as well as a channel rebranding of Sony Max), with other HD channels in later years.
SPN launched its next sports channel, Sony Kix, in April 2015 before that year's IPL season. After some months, it was renamed as Sony ESPN in January 2016, but closed down in March 2020 along with Sony Mix. However, in March 2017, SPN acquired the Ten Sports network from Zee, greatly expanding its sports portfolio.

2017–present
In 2017 ZEEL sold the Ten Sports Network to Sony Pictures Networks India. All the Ten channels, along with Sony Six, rebranded on 18 July 2017 to match the logo style of fellow sports channel Sony ESPN (which closed down on 30 March 2020). Sony Ten 2 and 3 launched HD feeds on the same day. All the Sony sports channels also launched a new uniform graphics package.