Contents

2010–2016
2016–2017
2017–present
Sony Ten 3 is an Indian sports channel owned by Sony Pictures Networks India. Launched in 2010 as Ten Cricket by the Ten Sports network (then owned by ZEEL), it was renamed to Ten 3 in 2016, and then to Sony Ten 3 in 2017 after SPN acquired the Ten Sports network from ZEEL. It is a primarily Hindi-language channel, similar to competitor Star Sports 1 Hindi.
Ten Cricket
2010–2016

Ten Cricket was launched on 10 August 2010. As per its name, it focused on cricket. That role is now played by Sony Six.
Ten 3
2016–2017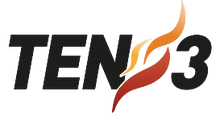 Zee rebranded the Ten Sports network on 29 March 2016, introducing a new slogan, Never stop. Ten Sports was renamed to Ten 1, Ten Action to Ten 2, Ten Cricket to Ten 3 and Ten HD to Ten 1 HD. The new logo style was on the basis of that of the now-defunct Ten Golf HD, which had rebranded in October 2015 after converting from a standard-definition (SD) channel into a high-definition (HD) channel.
Sony Ten 3
2017–present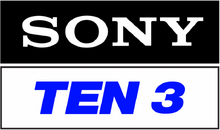 In 2017 ZEEL sold the Ten Sports Network to Sony Pictures Networks India. All the Ten channels, along with Sony Six, rebranded on 18 July 2017 to match the logo style of fellow sports channel Sony ESPN (which closed down on 30 March 2020). Sony Ten 2 and 3 launched HD feeds on the same day. All the Sony sports channels also launched a new uniform graphics package.
Part of Essel Group and Sony Pictures Entertainment

pending merger with Sony Pictures Networks India
---
Indian TV channels:
Hindi: Entertainment: Zee TV HD, &TV HD, Zee Anmol and Big Magic | Movies: Zee Cinema HD, &pictures HD, Zee Bollywood, Zee Classic, &xplor HD, Zee Action and Zee Anmol Cinema | Music/youth: Zing | Teleshopping: EZ Mall
English: Entertainment: Zee Café HD | Movies: &flix HD and &privé HD | Lifestyle: Zee Zest HD
Regional languages:
Entertainment channels: Tamil: Zee Tamil HD | Telugu: Zee Telugu HD | Kannada: Zee Kannada HD | Malayalam: Zee Keralam HD | Bangla: Zee Bangla HD | Marathi: Zee Marathi HD and Zee Yuva | Odia: Zee Sarthak | Punjabi: Zee Punjabi | Bhojpuri: Zee Ganga
Movie channels: Tamil: Zee Thirai HD | Telugu: Zee Cinemalu HD | Kannada: Zee Picchar HD | Bangla: Zee Bangla Cinema | Marathi: Zee Talkies HD and Zee Chitramandir | Bhojpuri: Zee Biskope

Upcoming channels:
Zee Rang | Marathi: Zee Chanderi | Hindi: Zee Josh
---
News channels: (Zee Media Corp.)
Hindi national: Zee News | Zee Hindustan | Zee Business | English: WION | Hindi regional: Zee Delhi NCR Haryana | Zee Uttar Pradesh/Uttarakhand | Zee Rajasthan | Zee Madhya Pradesh/Chhattisgarh | Zee Bihar/Jharkhand | Gujarati: Zee 24 Kalak | Bangla: Zee 24 Ghanta | Marathi: Zee 24 Taas | Urdu/Hindi: Zee Salaam | Punjabi/Hindi: Zee Punjab/Haryana/Himachal
Digital news channels: Zee Tamil News | Zee Telugu News | Zee Kannada News | Zee Malayalam News | Zee Odisha News
---
International channels:
Arab world: Zee Aflam (movies) and Zee Alwan (entertainment) | United States: Zee Smile | Canada: Zee TV Canada | Latin America and US Hispanic: Zee Mundo | Russia: Zee TV | Thailand: Zee Nung | Indonesia: Zee Bioskop | Vietnam: Zee Phim | South Africa/Subsaharan Africa: Zee World, Zee One and Zee Bollynova | Ethiopia: Zee Alem | Francophone Africa: Zee Magic
---
Non-television businesses: Film production: Zee Studios and Zee Studios International | Music label: Zee Music Company | Theatrical production: Zee Theatre | Live events: Zee Live | Media marketing: Zee Melt | Licensing and syndication arm for international markets: Zee Global Content Sales
Other properties: Zee Digital | Zee Educare | Zee Family.TV | Zee International | Z5X Technology
Video-on-demand services:
Streaming platforms: India: ZEE5 (Club | Kids | Premium | Zindagi) | Latin America and US Hispanic: Zee Mundo Play
Pay-per-view cinema: Zee Plex
---
Defunct channels:
Hindi: Entertainment: Zindagi (as a TV channel), Zee Next, 9X and Zee Smile | Movies: Zee Premier | Music: Zee ETC Bollywood | Devotional: Zee Jagran | Lifestyle: Zee Khana Khazana | Shopping: Asian Sky Shop
English: Movies: Zee Studio HD | Lifestyle: Zee Trendz, Living Foodz HD, Living Travelz and Living Zen | Kids': ZeeQ | Sports: Zee Sports
Regional languages: Zee ETC Punjabi | Zee Gujarati | Zee 24 Gantalu (Telugu) | Zee Odisha | Zee Vajwa (Marathi)
International channels: Zee Punjabi (UK) | Zee Lamhe | Zee Bollymovies (Africa) | Zee Hiburan (Indonesia) | Zee Sine (Philippines) | Zee Variasi (Malaysia) | Zee One (Germany)
Divested channels:
Ten Sports Network (sold to Sony Pictures Networks India): Ten 1/Ten 1 HD (Ten Sports/Ten HD) | Ten 2 (Ten Action) | Ten 3 (Ten Cricket) | Ten Golf/Ten Golf HD
Z Living (sold to NIA Broadcasting)
---