This page only shows primary logo variants.
For other related logos and images, see:
1961–1974
1961–1964
1964–1974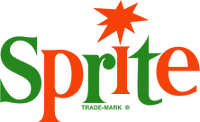 1974–1989
1974–1984
In 1974, Sprite change its font and the text became green. In 1978, the orange star was changed into an orange dot.
1984–1989
The "Lymon" symbol was added over the I in 1984. Redesigned with a cleaner look.
1989–2006
1989–1995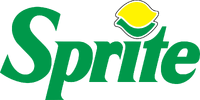 In 1989, Sprite changed its font and added the lines on the background. This logo is still seen on some glass bottles.
1994–2006
In 1994, Sprite's logo was redesigned with new and edgier graphics. They also dropped the words "Great Lymon Taste" from the cans and bottles. The new design was launched with an urban-themed campaign and the slogan "Obey Your Thirst". After Sprite changed its logo in 2002 internationally, this logo continued to be used in the United States and Canada until 2006. This logo is still seen on some glass bottles.
2003–2007, 2015–2019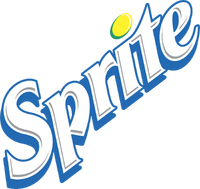 In 2002, Sprite jazzed up the logo with a new font that used outside North America. In North America, it is used as a secondary logo and was used on Tropical Sprite Remix in the United States in 2003-2005 and revived in 2015 as Sprite Tropical and in 2016 as Sprite Tropical Mix. It was also used on Sprite Ice in Canada until 2007. This logo is still seen on some glass bottles.
2006–2008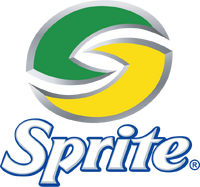 In 2006, a new Sprite logo, consisting of two yellow and green "halves" forming an "S" lemon/lime design, made its debut on Sprite bottles and cans. The slogan was also changed from its long-running "Obey Your Thirst" to just "Obey".
2008–present
2008–2019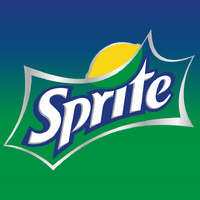 In late 2008, Sprite jazzed up the logo once again, the font changes, added the silver border (which is a call-back to the 1961 logo) and the "Lymon" was redesigned. This logo is still seen on some glass bottles.
2014–2019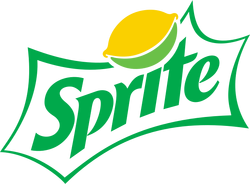 In February 2014, the 2008 Sprite logo became two-dimensional and the "Lymon" was redesigned once again. Used on the special edition cans only.
2015–2019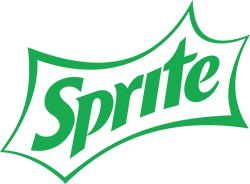 Version of the logo without the "double-lemon", used on the promotional cans and ads in the United States from early 2015.
2019–present
Sprite rebranded in June 2019. The new-look featured a new slogan "Thirst For Yours". The wordmark and border were redrawn, and the angle of the logo was made less diagonal. The logo is the first since 2006 to not use a lemon-lime for the dot on the I.
See also
Community content is available under
CC-BY-SA
unless otherwise noted.