1958, 1962–2006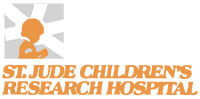 The original logo was created in 1958, and started being used by both St. Jude and ALSAC in 1962. This logo was also used for St. Jude as a main logo from 1962 to 1996, a secondary logo from 1996 to 2002, and then as a minor logo before being retired in 2006. A Twitter post disputes this claim, saying the logo was actually an inspiration from Emily Taylor Stearns when she was at St. Jude in 1977, seen here However, the official website still claims that the original St. Jude logo was created in 1958 from a photo of a little girl holding a flower.
1994–2006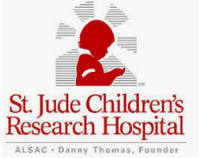 This logo was most likely used along with the 1958-1996 logo used earlier in the year. This logo was used from 1997 to 2002, and was then replaced officially in 2003 or 2004 in the campus by the one unveiled in August 2002. The logo's final use is still in use today; in the Danny Thomas Memorial Garden, only in black and white, which was added sometime after Rose Marie's death in 2000. It is also mistakenly used on posters to this day, one example being an event in 2008. This logo also interestingly has an alternate "thick version" which was added on the hospital in 1994.
2002–present
The St. Jude logo was unveiled in August 2002, and has been in use since then. An archived version of the original Promise magazine page (most likely replaced in 2005) shows this logo being used since August 2, 2002.