Contents

1989–1993 (Vision)
​1993–2000
2000–2004
2004–2013
2013–2014
2014–2018
2018-present
Vanguard Films, Inc.
1982–1989
This article or section lacks a former logo at the moment.
You can help Logopedia by uploading it here.
Vanguard Films was formed in 1982. It was headed by Simon Ongpin and Charo Santos-Concio.
Vision Films, Inc.
​1989–1993
Four years prior to Star Cinema's foundation, the driving forces of ABS-CBN including Charo Santos-Concio founded Vision Films in 1989 and it was operated independently from the network and Regal Films.
The logos of this incarnation, however, were depended on the variations used in their films until its dissolution in May 1993 when it was absorbed into the present-day Star Cinema.
The logo variation from the Kapag Langit ang Humatol (1990) was used instead in the posters of the restored versions of the company's films which were released by the successor.
Star Cinema (first era)
​1993–Late 2000

Onscreen Intros
Late 2000–2004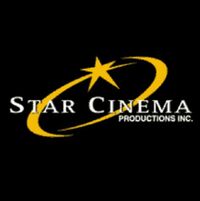 Star Cinema/ABS-CBN Film Productions
2004–2013
The logo was modified in 2004, to the debut of the movie Milan, released in February 2004, without the stars sparkling. Succedeng month, the logo was modified for the debut of the movie Otso-Otso Pamela-Mela Wan, released in March 2004.
There exists an off-centered version in 4:3 aspect ratio, appearing on such films like Sukob, All My Life and D'Anothers.
2013–2014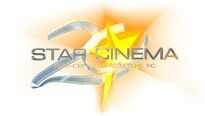 This logo is used for the 20th anniversary in 2013. The onscreen version of the logo debuted in the movie Four Sisters and a Wedding, released in 2013.
Star Cinema (second era)
2014–2018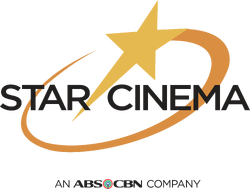 After 14 years of having used the same design, Star Cinema gave its "shooting star" logo a major revamp. The trail of the star became more rounded, the star became more slanted and was placed to the head of the gold trail, and the "Star Cinema" text started using the Gotham font for its typeface. The "ABS-CBN" word mark and the "Film Productions, Inc." text, meanwhile, were dropped in favor of using the text "An ABS-CBN Company" (with ABS-CBN on its 2014 horizontal logo). Onscreen, the Star Cinema text uses the Akzidenz-Grotesk font for its typeface.
The onscreen version of the logo debuted in 2014 in two movies: "The Amazing Praybeyt Benjamin" and "Feng Shui 2", both of which were Star Cinema's entrees in the 40th Metro Manila Film Festival.
2018–present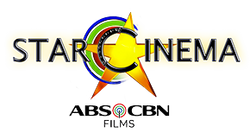 For the studio's 25th Anniversary in 2018, the trademark shooting star logo was now replaced with the logo of a golden star and three RGB-colored rings.
Community content is available under
CC-BY-SA
unless otherwise noted.