Contents

1989–1993 (Vision)
​1993–2000
2000–2004
2004–2013
2013–2014
2014–2018
2018-present
Vanguard Films, Inc.
1982–1989
| | |
| --- | --- |
| | LOGO MISSING |
Vanguard Films was formed in 1982. It was headed by Simon Ongpin and Charo Santos-Concio.
Vision Films, Inc.
​1989–1993
Four years prior to Star Cinema's foundation, the driving forces of ABS-CBN including Charo Santos-Concio founded Vision Films in 1989 and it was operated independently from the network and Regal Films.
The logos of this incarnation, however, were depended on the variations used in their films until its dissolution in May 1993 when it was absorbed into the present-day Star Cinema.
The logo variation from the Kapag Langit ang Humatol (1990) was used instead in the posters of the restored versions of the company's films which were released by the successor.
Star Cinema (first era)
​1993–Late 2000

Onscreen Intros
Late 2000–2004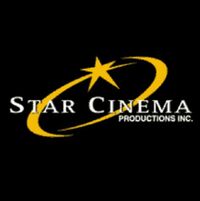 Star Cinema/ABS-CBN Film Productions
2004–2013
The logo was modified in 2004, to the debut of the movie Milan, released in February 2004, without the stars sparkling. Succedeng month, the logo was modified for the debut of the movie Otso-Otso Pamela-Mela Wan, released in March 2004.
There exists an off-centered version in 4:3 aspect ratio, appearing on such films like Sukob, All My Life and D'Anothers.
2013–2014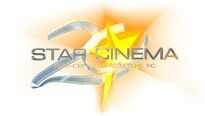 This logo is used for the 20th anniversary in 2013. The onscreen version of the logo debuted in the movie Four Sisters and a Wedding, released in 2013.
Star Cinema (second era)
2014–2018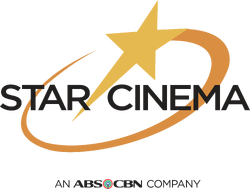 After 14 years of having used the same design, Star Cinema gave its "shooting star" logo a major revamp. The trail of the star became more rounded, the star became more slanted and was placed to the head of the gold trail, and the "Star Cinema" text started using the Gotham font for its typeface. The "ABS-CBN" word mark and the "Film Productions, Inc." text, meanwhile, were dropped in favor of using the text "An ABS-CBN Company" (with ABS-CBN on its 2014 horizontal logo). Onscreen, the Star Cinema text uses the Akzidenz-Grotesk font for its typeface. Despite that the "Film Productions, Inc." was dropped from the logo, the corporate name ABS-CBN Film Productions, Inc. is still used until today.
The onscreen version of the logo debuted in 2014 in two movies: "The Amazing Praybeyt Benjamin" and "Feng Shui 2", both of which were Star Cinema's entrees in the 40th Metro Manila Film Festival.
2018–present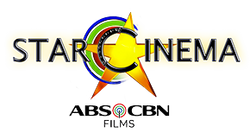 For the studio's 25th anniversary in 2018, the trademark shooting star logo was now replaced with the logo of a golden star and three RGB-colored rings (which are also used as the colors of the ABS-CBN logo).
Part of Lopez Holdings Corporation
---
Predecessor companies:
Bolinao Electronics Corporation | Alto Broadcasting System/Alto Sales Corporation | Chronicle Broadcasting Network | Banahaw Broadcasting Corporation
---
Owner
Lopez, Inc. (56.08%) | ABS-CBN Holdings Corporation (32.1%) | Public Ownership (42.92%)
---
Parent
Lopez, Inc. (Lopez Holdings Corporation)
---
Divisions
ABS-CBN Entertainment (Break Bumpers | Other) | ABS-CBN News and Current Affairs | CineMedia Group (Dreamscape Entertainment (On-Screen Logos) | Dreamscape Digital | Cosyne Multimedia) | iCONN | Star Creatives Television | Star Magic
---
Subsidiaries
ABS-CBN Global Ltd. | ABS-CBN International | ABS-CBN International Distribution | ABS-CBN Foundation, Inc. | ABS-CBN Themed Experiences | ABS-CBN Shared Service Center | Bantay Bata 163 | Bantay Kalikasan | Sagip Kapamilya | Knowledge Channel Foundation | Bayan Productions | Big Dipper | Creative Programs | The Chosen Bun
---
ABS-CBN Films
Star Cinema | Black Sheep Productions | Quantum Films | TFC at the Movies
---
TV Stations
ABS-CBN Regional
DZOE-TV (Metro Manila) | D-3-ZO-TV (North Luzon) | DZAD-TV (Southern Tagalog) | DYPR-TV (Palawan) | DZNC-TV (Bicol) | DYCB-TV (Central Visayas) | DYAB-TV (Eastern Visayas) | DYAF-TV (Panay) | DYXL-TV (Negros) | DXZT-TV (South Central Mindanao) | DXCS-TV (Cagayan De Oro) | DXAS-TV (Southern Mindanao) | DXLL-TV (Zamboanga)
---
Television channels
Analog/Digital free-to-air channels
A2Z1 (Other) | Knowledge Channel3
Cable/Satellite channels
ABS-CBN News Channel | Cinema One | Cine Mo! | Jeepney TV | Kapamilya Channel | Metro Channel | Myx | Radyo Patrol Davao | TeleRadyo | TeleRadyo Cebu
International channels
ANC Global | S+A Global | Cinema One Global | Myx TV | TFC
---
Telecommunications and digital media
ABS-CBN Digital Media | ABS-CBN TVplus | ABS-CBN TVplus Go | Destiny Cable | SkyCable | Sky Fiber
---
Licensed products
ABS-CBN Publishing, Inc.
---
Web TV
iWant TFC | Kapamilya Online Live | Sky On Demand
---
YouTube Channels
ABS-CBN Entertainment | ABS-CBN News | ABS-CBN Lifestyle | ABS-CBN Star Cinema | ABS-CBN Talk | MYX Philippines | Push | Star Magic
---
Internet and Social Media
ABS-CBN Interactive | ABS-CBN News | Choose Philippines | DZMM.com.ph | Hero | Just Love Kids | KTX | Push.com.ph | PATROL.PH | TrabaHanap.com
---
TV Productions and Partners
CBN Asia
---
Recording companies and other subsidiaries
Star Music (Logo Variations | Other) | TNT Records | ABS-CBN Philharmonic Orchestra
---
Inactive
Cinema One Premium HD
---
Former TV Productions and Subsidiaries
AMCARA Broadcasting Network | Probe Productions | TAPE Inc.
---
Former and Defunct
Asianovela Channel | ABS-CBN S+A (HD) | ABS-CBN TVplus | ABS-CBN TVplus Go | ABS-CBN (Logo Variations | Other) | ABS-CBNmobile | ABS-CBN Regional Channel | ABS-CBN Sports | The ABS-CBN Store | ABS-CBN Studio Experience | Balls/Balls HD | CgeTV | Hero | KidZania Manila | Kapamilya Box Office | Liga | LVN Pictures Inc. | Maxxx | Multiply | MOR Philippines | Movie Central | O Shopping2 | Tag | Velvet | Roadrunner Network, Inc. | Sky Direct | Skylight Films | Star Home Video | Yey! (Other)
---
Inactive Radio networks
ABS-CBN Radio
---
Inactive TV Stations
ABS-CBN Regional
DWWX-TV 2 (Metro Manila)
---
Inactive Television channels
Analog free-to-air channels
ABS-CBN (Logo Variations | Other) | ABS-CBN S+A (HD)
Digital free-to-air channels
Asianovela Channel | Cine Mo! | Jeepney TV | Kapamilya Box Office | Knowledge Channel | Movie Central | Myx | O Shopping2 | TeleRadyo | Yey!
1Blocktime with ZOE Broadcasting Network
2Joint venture with CJ ENM
3Blocktime with Broadcast Enterprises and Affiliated Media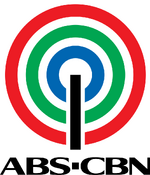 Headquarters:
ELJ Communications Center, Eugenio Lopez Drive, Diliman, Quezon City, Metro Manila, Philippines
ABS-CBN Broadcasting Center, Sgt. Esguerra Avenue corner Mother Ignacia Street, Diliman, Quezon City, Metro Manila, Philippines