Fizz
2005-2009
Fizz launched on 24 January 2005 on Sky channel 468, moved to 361 in 2006, and then 371 in 2008, and continued until 2009.
Starz TV
2009-2014

In 2009, Fizz was renamed Starz TV. At the same time, it's sister channel at the time, Channel U, was renamed Channel AKA.
2014-present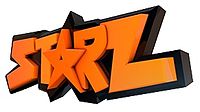 The logo is now 3D and tilted, the word "Starz" was still kept, but the star was moved to the middle of the Starz logo, replacing the "A".