Fizz
2005–2009
Fizz launched on 24 January 2005 on Sky channel 468 as a sister channel to Channel U.
Starz TV
2009–2014

In 2009, Fizz was renamed Starz TV. At the same time, it's sister channel Channel U was renamed Channel AKA.
2014–present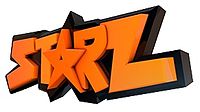 Following its acquisition by CSC Media Group, they changed their logo.
The logo is now 3D and tilted, the word "Starz" was still kept, but the star was moved to the middle of the Starz logo, replacing the "A".
Community content is available under
CC-BY-SA
unless otherwise noted.