Not to be confused with Sun Television, a TV channel in Kansai, Japan.
Sun TV is the oldest and most popular Tamil-language TV channel in India and the flagship channel of the Sun TV Network in South India. It was launched on 14 April 1993, making it the oldest private Tamil TV channel in India, closely followed by Star Vijay. It has consistently been among the three most popular TV channels in India across all languages, along with Hindi entertainment channels like Dangal and Star Plus.
Other competitors, besides Star Vijay, include Zee Tamil, Colors Tamil and Jaya TV, as well as Raj TV, Kalaignar TV and Polimer TV to a smaller extent.
1993–1997
1997–present
In 1997, the Sun wordmark was removed, leaving only the TV wordmark. This has lasted to the present day. It is one of the most recognisable TV logos in South India, along with that of Asianet, a Malayalam channel owned by Star.
HD: 2011–present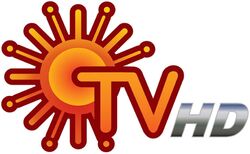 An HD feed of Sun TV was launched on 11 December 2011 along with HD feeds of two other Tamil channels (K TV and Sun Music) and the Telugu channel Gemini TV. These were the first regional-language (i.e., non-Hindi and non-English) HD channels in India.