Contents

2006–2012
2012–2020
2020–present
2006–2012
SuperSport launched a segment in 2001 called SuperSport Update, which broadcasts its sports news content in nine minutes. With the positive feedback from local viewers, it upgraded to Africa's first-ever 24-hour sports news channel on October 1, 2006, which Tex Teixeira gave its new name: SuperSport Blitz. The channel updates its sports news content every 26 minutes on weekdays and 56 minutes over weekends; classifying any broadcast content on other SuperSport channels; be it football/soccer, athletics and motorsport.
2012–2020
SuperSport Blitz re-branded its logo in 2012 owing to the switch to HD-suitable feed look. Since 2015, the channel relays Sky Sports News broadcasts from England.
2020–present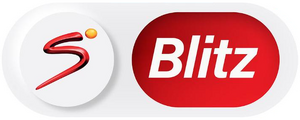 SuperSport Blitz re-branded its logo the second time owing to the historic revamp of SuperSport channels from number-oriented to sport or competition-themed.
Television services:
Satellite TV: DStv (South Africa) | GOtv (outside South Africa) | Box Office
Video-on-demand: Showmax

---
M-Net channels:
1Magic | Africa Magic (Showcase | Family | Epic | Hausa | Yoruba | Igbo) | KykNET (& Kie | Museik) | Me | Maisha Magic (East | Plus | Bongo) | M-Net Movies (1 | 2 | 3 | 4) | Mzansi Magic | Novela Magic | Zambezi Magic | Pearl Magic | 1KZN | Akwaaba Magic | OneZED

---
SuperSport channels:
Blitz | Grandstand | PSL (South Africa only) | Premier League | LaLiga | Football Plus | Football | Variety | Action | Golf | Motorsport | Tennis | WWE | Máximo

---
Other assets:
Irdeto
---
Defunct channels and properties:
Vuzu
---