Super Mario is a popular video game franchise of the japanese company Nintendo.
While the first game Super Mario Bros. was released in 1985, the series itself didn't a have a main logo (besides the games' logos) until the release of Super Mario 64 in 1996. However, both logos shown below have only been used in merchandise and promotional material and are not commonly seen in the games.
This page only shows primary logo variants.
For other related logos and images, see:
1996–2011

First logo of the franchise, uses the same style of the title logos of both Super Mario World and Super Mario 64. This title debuted on Super Mario 64 and made its final appearance on Super Mario Galaxy 2.
2011–present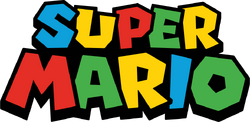 In 2011, the logo had a major improvement: the design of the letters got tweaked, the edges are more rounded now and a dark shadow was added in center of the title. And also the colors of the letters were swapped (except for the "A", second "R" and "O"). This title made its debut with the launch of Super Mario 3D Land.
Consoles
Color TV-Game | Nintendo Entertainment System | Super Nintendo Entertainment System | Nintendo 64 (64DD) | GameCube | Wii | Wii U | Nintendo Switch1
---
Handhelds

Game & Watch | Virtual Boy | Nintendo DS (Nintendo DSi) | Nintendo 3DS (XL | 2DS | New) | Nintendo Switch1
---
Classic Editions
NES Classic Edition | SNES Classic Edition
---
Franchises

Main Series Video Games
Red, Blue, Green (JP), (Yellow) | Gold, Silver (Crystal) | Ruby, Sapphire (Emerald) | Diamond, Pearl (Platinum) | Black, White (Black 2, White 2) | X, Y | Sun, Moon (Ultra Sun, Ultra Moon) | Sword, Shield
---
---
---
---
---
---
---
---
---
---
---
---

Donkey Kong | Fire Emblem | Yoshi
---
Services
My Nintendo | Nintendo Direct | Nintendo eShop | Nintendo Network | Nintendo Switch Online | Virtual Console
---
Other
Amiibo | Kyoto Broadcasting System (4.95%) | Monolith Soft | Next Level Games | Nintendo Minute | DeNA (10%) | NDcube | Nintendo Labo | Nintendo Seal of Quality | Seattle Mariners (10%) | Nintendo New York | Retro Studios
---
Smart-Device Applications
Miitomo | Nintendo Switch Parental Controls
---
Defunct
Art Style | Club Nintendo | Nintendo Anime Channel | Nintendo DSi Shop | Nintendo Power | Nintendo Video | Nintendo Wi-Fi Connection | Touch Generations | Miiverse | Nintendo Spotlight | Nintendo TVii | Wii Shop Channel | WiiWare | Triforce
---
Notes
1 Nintendo Switch is a hybrid console which acts both as a home and handheld unit and satisfies the criteria for both categories.