Super Mario Bros. 2 (Japan)
1986; 1986-present (JP Merchandising)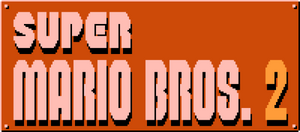 The game was released as Super Mario Bros. 2 for the Famicom in Japan only, since the NES altered version of Yume Kōjō: Doki Doki Panic known as Super Mario Bros. 2 (later known as Super Mario USA in Japan) took its place as the second game of the franchise released in North America and Europe.
On the Super Famicom remake released in Super Mario Collection, the subtitle "For Super Players" was added to the title screen logo.
Super Mario Bros. The Lost Levels (US/PAL)
1993, 2010, 2020 (Super Mario All-Stars); 1993-present (INT Merchandising)
The remake of the game was released in North America included in Super Mario All-Stars, under the name of Super Mario Bros The Lost Levels, to avoid confusion with the other Super Mario Bros. 2 game, which was also featured in the collection.
Super Mario Bros. For Super Players