For TF!'s home media branch, see TF! Video.
This page only shows primary logo variants.
For other related logos and images, see:
TF1 Jeunesse (or simply known as TF!) was the French kids block of TF1. It replaced the successful Club Dorothée block on 1 September 1997.
1997–2006
1997–2001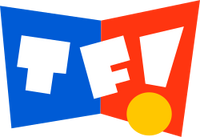 | | |
| --- | --- |
| Launched:  | September 1, 1997 |
This logo was designed by Pittard Sullivan. However, the Blue and Red logo wasn't officialy used, as it was only used in the opening and the TF! Version of TF1 Publicite. However, it went viral on the internet.
2001–2006
| | |
| --- | --- |
| Launched:  | August 27, 2001 |
On 27 August 2001, the TF! logo was now 3D modernised, varying by colour, depending on the cartoons and the skin evolving in addition to the background in two colors. It was made in the last programming on Sunday, 31 December 2006. On 1 January 2007, TF1 Jeunesse was replaced with TFOU. After creating the tfou.fr, TF1's first kids' website, Groupe TF1 launched the TFOU TV channel in 2003 to 2007. In 2007, in the logo of TF1 Jeunesse was replaced by that of TFOU TV (without a circle behind the logo). However, the red and yellow colors were used on the TFOU logo until August 2007.