1999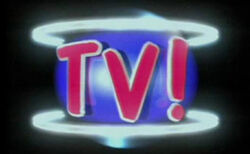 On May 8, 1999, the license of Rede Manchete was sold to the TeleTV Group for $608 million. The network eventually ceased operations 2 days later. The Bloch-TeleTV transition period was conducted, and test broadcasts were conducted later in May as TV!.
The logo featured a blue sphere with 1 white ring each at the top and bottom. "TV!" was inscripted in front of the sphere, with the text being red with a white outline.
On November 12, 1999, a countdown clock to its official launch replaced test broadcasts, with RedeTV! officially launching 3 days later at 7:00am.