TV2 Csoport (English: TV2 Group) is one of the two biggest commercial TV broadcasters in Hungary, the other being RTL Magyarország. Until 2014 it was owned by German media group ProSiebenSat.1 Media; it was then sold to a consortium led by Hungarian-American film producer Andrew Vajna (1944–2019).
2013–2016

The four squares represent the four television channels of the network at the time and the primary colours used by them: red for TV2, yellow-orange for SuperTV2, green for FEM3 and blue for PRO4 (now Mozi+).
2016–present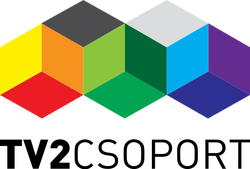 This logo was introduced in 2016 when TV2 Csoport launched a slew of new channels to add to the original four.
TV2 Csoport
Television
---
---
---
---