2005–2009
This logo was created for the launch of TV4 Fakta on September 15, 2005.[1][2][3][4]
2009–2019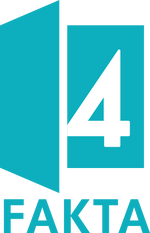 Eventually, updated logos for TV4 Fakta and TV4 Film came about, making them more consistent with the other channels in the TV4 family. They were however not launched on screen immediately.
The updated logo replaced the old one when TV4 Fakta got new graphics on August 21, 2009. The new graphics were designed by a company called Broken Doll. The idents feature closeups of hands.
2019–present