Television Ark
1998–2000
TVARK was launched as Television Ark on 8 November 1998.
TVARK
2000–2003
In 2000, Television Ark shortened its name to simply TVARK, along with a new website named as www.tv-ark.org.uk.
2003–2006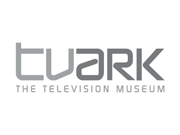 In 2003, the TVARK logo was modified and the slogan "The Television Museum" was added into it.
2006–present
In 2006, TVARK featured a new logo, a symbol and a website design. The URL was originally www.tv-ark.org.uk before they moved to www.tvark.org on 29 August 2018.
In March 2017, the site was temporarily taken down for a major revamp. As of present, TVARK remains off and has been offline for over 2 years. It was expected to return not before autumn 2017, but failed to meet the deadline. After missing the entirety of 2018 and a good chunk of 2019, it is expected to return on 19 January 2020.
Community content is available under
CC-BY-SA
unless otherwise noted.