TVN, pronounced as tefau-en, is the flagship channel of TVN Discovery Polska, one of the two predominant commercial TV broadcasters in Poland, the other being Cyfrowy Polsat. Originally owned by Grupa ITI, the TVN network of channels was acquired by Scripps Networks Interactive in 2015, which, in turn, was acquired by Discovery, Inc. in 2018.
TVN and its main sister channels TVN7 and TTV primarily compete with Cyfrowy Polsat's main channels (Polsat, Polsat 2 and TV4), as well as the public broadcaster TVP's flagship channels, TVP1 and TVP2.
TVN was originally an abbreviation of Telewizja Nowa (New Television), but this full name is no longer used, to avoid confusion with Nowa TV (which is now owned by Cyfrowy Polsat).
Telewizja Wisła
1995–1997
TVN
1997–present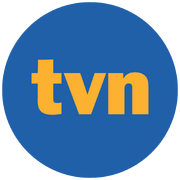 TVN started broadcasting at 7 p.m. on Friday 3 October 1997, the day before the BBC introduced a major rebranding of its properties with a new logo scheme.
Neither TVN nor the BBC have ever changed their logos since 1997. This also holds true for RTL Klub in Hungary, which was also launched in October 1997.
TVN launched a high-definition feed on 28 August 2007, shortly before its tenth anniversary, thereby becoming the first private Polish channel to do so.
See also
Community content is available under
CC-BY-SA
unless otherwise noted.