In 2011, Band and TV Meio Norte parted ways with Band trying to find affiliates in the Piauí region after losing a lot of affiliates that were originally affiliated with the network and Meio Norte. In 2014, Bandeirantes acquired TV Perspectiva and converted into Band Piauí.
TV Perspectiva
2014-2015
TV Bandeirantes Piauí
2015-2018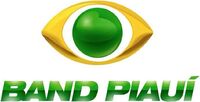 This was used as an alternate logo because Band stations carry the same branding as the network.
2018-present
Current stations:
Amazonas: Band Amazonas1 (Manaus)
Acre: TV5 (Rio Branco) | TV Integração (Cruzeiro do Sul)
Roraima: Band Roraima (Boa Vista)
Rondônia: TV Meridional (Cacoal, Porto Velho) | TV Regional (Presidente Médici)
Amapá: TV Macapá (Macapá)
Pará: RBATV (Belém, Castanhal, Marabá, Paragominas, Parauapebas, Santarém) | TV Açaí (Abaetetuba) | TV Amazônia (Capanema) | TV Bragantina (Bragança) | TV Cidade (Altamira, Mocajuba) | TV Eldorado (Itaituba) | TV Guajarina (Santa Isabel do Pará) | TV Sentinela (Óbidos) | TV Tocantina (Cametá) | TV Vale do Uruará (Uruará)
Tocantins: Sil TV (Gurupi) | TV Amazônia (Araguaína)
Maranhão: Band Maranhão1 (São José de Ribamar, São Luís)| TV Caxias (Caxias) | TV Pinheiro (Pinheiro) | TV Atenas (Pedreiras) | TV Nova Era (Colinas) | TV Verdes Lagos (Lago da Pedra) | TV Palmeira do Norte2 (Codó) | TV Mearim2 (Bacabal) | TV Santa Helena2 (Santa Helena) | TV Cidade2 (Açailândia)
Piauí: Band Piauí1 (Parnaíba, Teresina)
Ceará: Band Ceará (Fortaleza)
Rio Grande do Norte: Band RN1 (Natal)
Paraíba: TV Manaíra (João Pessoa)
Pernambuco: TV Tribuna (Olinda, Recife)
Alagoas: Band Maceió1
Sergipe: Band Aracaju1
Bahia: Band Bahia1 (Salvador)
Brasília: Band Brasília1
Goiás: TV Goiânia (Goiânia)
Mato Grosso: Band MT1 (Cuiabá) | TV Vitória Régia (Cáceres) | Band Barra do Garças(Barra do Garças)
Mato Grosso do Sul: TV Guanandi (Campo Grande)
Espírito Santo: TV Capixaba (Vitória)
Rio de Janeiro: Band Rio1 | Band Rio Interior1 (Barra Mansa)
Minas Gerais: Band Minas1 (Belo Horizonte) | Band Triângulo1 (Uberaba)
São Paulo: Band São Paulo1 | Band Mais 1 (Campinas) | Band Paulista 1 (Presidente Prudente, São José do Rio Preto) | Band Vale 1 (Taubaté) | TV Clube (Ribeirão Preto) | TV Thathi Litoral (Santos, São Vicente)
Paraná: Band Paraná1 (Curitiba) | TV Maringá (Maringá) | TV Tarobá (Cascavel, Londrina)
Santa Catarina: TV Barriga Verde (Florianópolis)
Rio Grande do Sul: Band RS1(Porto Alegre)
---
Owned station and operated by Rede Bandeirantes:
Ecoacre Comunicações | Sistema Integração de Comunicação | Sistema Imperial de Comunicação | Sistema Meridional de Comunicação | Central Rondoniense de Comunicação | Sistema Imperial de Comunicação | Organizações José Alcolumbre | Grupo RBA de Comunicação | Empresa de Comunicação Abaetetubense | Sistema de Comunicação Frederico Braun | Prefeitura Municipal de Bragança | Rádio e Televisão Mansour | Prefeitura Municipal de Mocajuba | ITA Negócios e Comunicações | TV Guajarina (company) | Sistema Sentinela de Comunicação | Prefeitura Municipal de Cametá | Rádio e TV Vale do Uruará Ltda. | Macarena Telecomunicações | Via Brasil Comunicação | Sistema Veneza de Comunicação | Grupo Princesa da Baixada | Atenas Comunicações | Sistema Nova Era de Comunicação | Grupo Waldir Jorge de Comunicação | Sistema Jangadeiro de Comunicação | Sistema Opinião de Comunicação | Rede Tribuna | Rede Vitoriosa de Comunicações | TV Vitória Régia (company) | TV Cidade Verde (company) | Fundação Internacional de Comunicação | Grupo Sá Cavalcante | Sistema Clube de Comunicação | Grupo Solpanamby | Grupo JMalucelli | Grupo Muffato | Grupo Barriga Verde
---
Former Station:
TV Amazonas (Manaus, Amazonas)(moved to Globo as Rede Amazônica) | TV Ajuricaba (Manaus,Amazonas)(current as Boas Novas) | TV Parintins (Parintins, Amazonas)(moved to Globo as Rede Amazônica) | TV Itacoatiara (Itacoatiara, Amazonas)(moved to Globo as Rede Amazônica) | TV União (Rio Branco, Acre)(current as Rede União) | TV Acre (Rio Branco, Acre)(moved to Globo as Rede Amazônica) | TV Roraima (Boa Vista, Roraima)(moved to Globo as Rede Amazônica) | TV Rondônia (Porto Velho, Rondônia)(moved to Globo as Rede Amazônica) | TV Cacoal (Cacoal, Rondônia)(moved to Globo as Rede Amazônica) | TV Ariquemes (Ariquemes, Rondônia)(moved to Globo as Rede Amazônica) | TV Vilhena (Vilhena, Rondônia)(moved to Globo as Rede Amazônica) | TV Ji-Paraná (Ji-Paraná, Rondônia)(moved to Globo as Rede Amazônica) | TV Guajará-Mirim (Guajará-Mirim, Rondônia)(moved to Globo as Rede Amazônica) | TV Amapá (Macapá, Amapá)(moved to Globo as Rede Amazônica) | TV Guajará (Belém, Pará)(current as Boas Novas) | TV Guajará (Tailândia, Pará)(moved to SBT) | TV Cultura do Pará (Belém, Pará)(moved to TV Cultura) | TV Javaés (Palmas, Tocantins)(moved to RecordTV as TV Jovem) | TV Palmas (Palmas, Tocantins)(moved to TV Brasil as TVE Tocantins) | TV Imperatriz (Imperatriz, Maranhão)(moved to Record News) | TV Maranhense (São Luís, Maranhão)(moved to TV Cultura) | TV Maracu (Viana, Maranhão)(moved to SBT) | TV Eldorado (Santa Inês, Maranhão)(moved to Esporte Interativo BR) | TV Cidade (São Luís, Maranhão)(moved to RecordTV) | TV Meio Norte (Teresina, Piauí)(current as Rede Meio Norte) | TV Cidade Verde (Teresina, Piauí)(moved to SBT) | TV Jangadeiro (Fortaleza, Ceará)(moved to SBT) | TV Cidade (Fortaleza, Ceará)(moved to RecordTV) | NordesTV (Sobral, Ceará)(became TV Jangadeiro) | TV Correio (João Pessoa, Paraíba)(moved to RecordTV) | TV Cabo Branco (João Pessoa, Paraíba)(moved to Globo) | TV Clube (Recife, Pernambuco)(moved to RecordTV) | TV Pernambuco (Caruaru, Pernambuco)(moved to TV Brasil) | TV Jornal (Recife, Pernambuco)(moved to SBT) | TV Alagoas (Maceió, Alagoas)(moved to SBT as TV Ponta Verde) | TV Jornal (Aracaju, Sergipe)(current as TV Canção Nova) | TV Atalaia (Aracaju, Sergipe)(moved to RecordTV) | TV Nacional (Brasília)(current as TV Brasil Capital) | TV Brasil Central (Goiânia, Goiás)(moved to TV Cultura) | TV Cidade Verde (Cuiabá | Juína | Primavera do Leste | Rondonópolis | Sorriso | Tangará da Serra, Mato Grosso)(current as Rede Cidade Verde) | TV Mutum (Nova Mutum, Mato Grosso)(moved to Rede Cidade Verde) | TV Brasil Oeste (Cuiabá, Mato Grosso)(moved to RBTV) | TV Caiuás (Dourados, Mato Grosso do Sul)(current as RIT Dourados) | TV Norte Fluminense (Campos dos Goytacazes, Rio de Janeiro)(current as RecordTV Interior RJ) | TV Paranaíba (Uberlândia, Minas Gerais)(moved to RecordTV) | TV São Paulo Centro (Bauru, São Paulo)(current as RecordTV Paulista) | TV Imagem do Noroeste (Paranavaí, Paraná)(moved to Globo as RPC TV) | TV Guairacá (Guarapuava, Paraná)(moved to Globo as RPC TV) | TV Esplanada (Ponta Grossa, Paraná)(moved to Globo as RPC TV) | TV Paraná (Curitiba, Paraná)(current as CNT Curitiba) | TV Tropical (Londrina, Paraná)(current as CNT Tropical) | TV Catarinense (Joaçaba, Santa Catarina)(moved to Globo as NSC TV) | TV Eldorado (Criciúma, Santa Catarina)(moved to Globo as NSC TV) | TV Xanxerê (Xanxerê, Santa Catarina)(moved to RecordTV as NDTV) | TV Vale do Itajaí (Itajaí, Santa Catarina)(moved to RecordTV as NDTV) | TV Cultura (Florianópolis, Santa Catarina)(current as Record News Santa Catarina) | TV Cachoeira (Cachoeira do Sul, Rio Grande do Sul)(current as TV Novo Tempo)
---
Defunct station:
TV Bandeirantes (Tefé, Amazonas | Palmas, Tocantins) | TV Equatorial (Macapá, Amapá) | TV Girassol (Gurupi, Tocantins) | RSTV (Sapezal, Mato Grosso)
---
1Owned-and-operated station
2Unknow owner station
Lean as main station