This page only shows primary logo variants.
For other related logos and images, see:
TV TEM (stylized as tv tem) is a regional TV station, operating in the state of São Paulo for cities Sorocaba, Bauru, São José do Rio Preto and Itapetininga. It is affiliated with Rede Globo.
2003-2019
2003, during the launch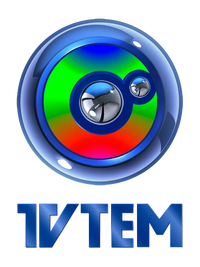 | | |
| --- | --- |
| | SVG NEEDED |
This was only used during its launch in 2003.
2003-2013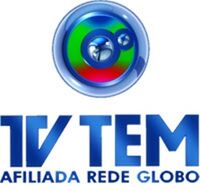 | | |
| --- | --- |
| | SVG NEEDED |
TV TEM's famous logo consists of a front-facing camera, where the borders and lenses are metallic and the other parts have a gradient (from bottom to top: red, green and blue). Below is the word TV TEM in Globo's ITC Avant Garde and, as well, below is the word Afiliada Rede Globo. During its launch, only the camera and station name were used in the logo.
2013-2019
| | |
| --- | --- |
| | SVG NEEDED |
In 2013, TV TEM updated its logo. The metallic textures were updated to match Rede Globo's 2008 metallic textures.
2019-present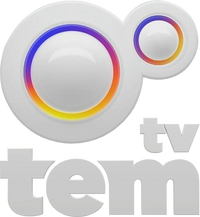 | | |
| --- | --- |
| | SVG NEEDED |
In 2019, TV TEM updated its logo one more time. This time, the metallic parts were replaced by white textures. Also, the gradient is now narrower and changed its colors to the following (clockwise: Yellow, Red, Purple and Blue). This changes were made to match the style of Rede Globo's current logo used since 2015.
Current stations:
Amazonas: Rede Amazônica (Itacoatiara, Manaus, Parintins)
Acre: Rede Amazônica (Cruzeiro do Sul, Rio Branco)
Roraima: Rede Amazônica (Boa Vista)
Rondônia: Rede Amazônica (Ariquemes, Cacoal ,Guajará-Mirim, Ji-Paraná, Porto Velho, Vilhena)
Amapá: Rede Amazônica (Macapá)
Pará: Rede Liberal (Altamira, Belém, Castanhal, Itaituba, Marabá, Paragominas, Parauapebas, Redenção, Tucuruí) | TV Tapajós (Santarém)
Tocantins: TV Anhanguera (Araguaína, Gurupi, Palmas)
Maranhão: TV Mirante (Balsas, Caxias, Codó, Imperatriz, São Luís)
Piauí: Rede Clube (Teresina, Floriano)
Ceará: TV Verdes Mares (Fortaleza, Juazeiro do Norte)
Rio Grande do Norte: InterTV (Natal, Mossoró)
Paraíba: TV Cabo Branco (João Pessoa) | TV Paraíba (Campina Grande)
Pernambuco: Globo Nordeste1 (Recife) | TV Asa Branca (Caruaru) | TV Grande Rio (Petrolina)
Alagoas: TV Gazeta (Maceió)
Sergipe: TV Sergipe (Aracaju)
Bahia: Rede Bahia (Barreiras, Feira de Santana, Itabuna, Juazeiro, Salvador, Vitória da Conquista)
Brasília: Globo Brasília1
Goiás: TV Anhanguera (Anápolis, Catalão, Goiânia, Itumbiara, Jataí, Luziânia, Porangatu, Rio Verde)
Mato Grosso: TV Centro América (Cuiabá, Rondonópolis, Sinop, Tangará da Serra)
Mato Grosso do Sul: TV Morena (Campo Grande, Corumbá, Ponta Porã)
Espírito Santo: TV Gazeta (Cachoeiro de Itapemirim, Colatina, Linhares, Vitória)
Rio de Janeiro: Globo Rio1 | InterTV (Cabo Frio, Campos dos Goytacazes, Nova Friburgo/Petrópolis) | TV Rio Sul (Resende/Volta Redonda)
Minas Gerais: Globo Minas1 (Belo Horizonte) | TV Integração (Araxá, Ituiutaba, Juiz de Fora, Uberaba, Uberlândia) | EPTV (Varginha) | InterTV (Montes Claros, Coronel Fabriciano/Governador Valadares)
São Paulo: Globo São Paulo1 | TV Diário (Mogi das Cruzes) | EPTV (Campinas, Ribeirão Preto, São Carlos) | TV Fronteira (Presidente Prudente) | TV TEM (Bauru, Itapetininga, São José do Rio Preto, Sorocaba) | TV Tribuna (Santos) | Rede Vanguarda (São José dos Campos, Taubaté)
Paraná: RPC (Cascavel, Curitiba, Foz do Iguaçu, Guarapuava, Londrina, Maringá, Paranavaí, Ponta Grossa)
Santa Catarina: NSC TV (Blumenau, Chapecó, Criciúma, Florianópolis, Joaçaba, Joinville)
Rio Grande do Sul: RBS TV (Bagé, Caxias do Sul, Cruz Alta, Erechim, Passo Fundo, Pelotas, Porto Alegre, Rio Grande, Santa Cruz do Sul, Santa Maria, Santa Rosa, Uruguaiana)
---
Parent companies of affiliated stations:
Grupo Rede Amazônica | Grupo Liberal | Sistema Tapajós de Comunicação | Grupo Jaime Câmara | Grupo Mirante | Sistema Clube de Comunicação | Sistema Verdes Mares | Rede InterTV | Rede Paraíba de Comunicação | Rede Nordeste de Comunicação | Sistema Grande Rio de Comunicação | Organização Arnon de Mello | Rádio Televisão de Sergipe | Rede Bahia | Rede Matogrossense de Comunicação | Rede Gazeta | Rabbit Participação e Administrações | Rede Integração | Empresas Pioneiras | Grupo Diário | TV Fronteira Paulista | Traffic | Grupo Tribuna | Rede Vanguarda | GRPCOM | NSC Comunicação | Grupo RBS
---
Former stations:
Moved to RecordTV: TV Serra Sul (current as Canaã TV) (Canaã dos Carajás, Pará) | TV Pericumã (Pinheiro, Maranhão) | TV Rio Turiaçú (Santa Helena, Maranhão) | TV Norte Fluminense (current as RecordTV Interior RJ) (Campos dos Goytacazes, Rio de Janeiro) | TV Leste (Governador Valadares, Minas Gerais)
Moved to SBT: TV Difusora (São Luís, Maranhão) | TV Borborema (Campina Grande, Paraíba) | TV Aratu (Salvador, Bahia) | TV Tibagi (currently a Rede Massa station) (Apucarana, Paraná) | TV Iguaçu (currently a Rede Massa station) (Curitiba, Paraná)
Moved to TV Cultura: TV Altamira (Altamira, Pará) | TV Golfinho (shares affiliation with TV Nova) (Fernando de Noronha, Pernambuco)
Moved to Boas Novas: TV Ajuricaba (Manaus, Amazonas) | TV Guajará (Belém, Pará)
Others: TV Maranhão Central (An independent TV network nowadays) (Santa Inês, Maranhão) | TV Potengi (current as TV Bandeirantes Natal) (Natal, Rio Grande do Norte) | TV Nacional (Current as TV Brasil Capital) (Brasília, Distrito Federal) | TV Tropical (current as CNT Tropical, own station of CNT) (Londrina, Paraná)
---
Defunct stations:
IPCTV (Japan - Globo Internacional) | TV Mirante (Açailândia | Santa Inês, Maranhão) | TV Caxias (Caxias, Maranhão) | TV Paulista (São Paulo)
---
1Owned-and-operated station (via Canais Globo)
Lean as main station
Community content is available under
CC-BY-SA
unless otherwise noted.