2001–2011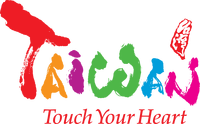 The different letters in the logo are all pictograms, mostly respresenting people. The following is a typical explanation of the logo:
"The "T" represents the sheltering eaves of Taiwan in a symbol of the island as a warm home. The "a" represents the host of this home, ardently welcoming travelers to Taiwan. The "I" is the traveler who has come to visit and is being received by the host. The "w" is the two people, host and visitor, shaking hands and greeting each other happily.
The second "a" and the "n" represent the two sitting together, drinking tea and chatting casually. In the upper right corner of the logo is an image of the island that expresses Taiwan's earnest and sincere desire to "Touch your Heart.""[1]
2011–
On February 11, 2011, the Taiwan Tourism Bureau launched a new logo and catchphrase to market Taiwan. The new slogan is "Taiwan – The Heart of Asia", replacing the old "Touch Your Heart" slogan.
The new logo consists of the word "Taiwan" and the slogan in a newly created typeface. The logo is supported by heart-shaped collages with images from Taiwanese culture. London-based creative agency Winkreative were involved in creating the new brand.
Community content is available under
CC-BY-SA
unless otherwise noted.