This page only shows primary logo variants.
For other related logos and images, see:
Telecorporación Salvadoreña (TCS for short) is a Salvadoran broadcasting network, founded by Boris Eserski on November 1, 1985 with the merger of San Salvador-based local channels 2, 4 and 6.
1985-2002
The first logo was introduced with a blue logo, consisting of the channels it owns inside the square with ten lines, next to the letters "TCS". The fonts of the wordmark were ITC Benguiat Condensed Book on its name, and Arial on its byline.
2002-present
Typography: 
Gill Sans (2002-2005)
Futura (2020-Present)
The logo is a rhombus with a blue & green gradient (symbolizing respectively the land and the sea), in which the letter T is reflected on its lower-left corner.
Associated Broadcasters
Television channels
National free-to-air channels
Movie World | Meganoticias 19 | Canal 21
---
Radio stations
Radio Jiboa | Radio Corazón | Radio Megahits | Radio Fuego | Radio La Libertad | Radio Sonomix | Mi Radio | La Sabrosa
---
Other assets
Megavisión Deportes | Megavisión GO
---
Part of Albavisión
---
Television channels
TUTV | Canal 12
---
Radio stations
Radio Sonora (El Salvador)
---
Other assets
Escuela de Comunicaciones RSM
---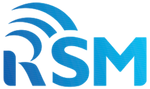 ---
Associated Television Channels
Independent
Canal 23 (TVO) | Canal 33 | Televisión Católica Arquidiocesana

---
Associated Radio Stations
Independient
Radio Paz | Radio Progreso | Radio Santa Biblia | Radio Doble H | Radio Punto 105 | Radio Stereo Morazán | Radio Rocola | Radio Carnaval
Grupo Aparcro
Radio Pantera | Radio Chaparrastique
Radio Corporación FM
EXA FM | Radio Stereo Club | FM Globo | Scan FM | La Pop | Radio YXY
Sistema Radial
Radio El Mundo | Radio Clásica | Radio UPA
Grupo Restrepo
Radio Mil-80 | Radio Cadena Radial

Grupo Radio Stereo
Radio Laser (Spanish / English) | Radio Femenina | Radio Fiesta | Radio Ranchera
Corporación YSKL
Radio YSKL | Cool FM | Doremix (Santa Ana) | RX FM (San Miguel) | PLUS FM

---