This page only shows primary logo variants.
For other related logos and images, see:
Telecorporación Salvadoreña (TCS for short) is a Salvadoran broadcasting network, founded by Boris Eserski on November 1, 1985 with the merger of San Salvador-based local channels 2, 4 and 6.
1985-2002
The first logo was introduced with a blue logo, consisting of the channels it owns inside the square with ten lines, next to the letters "TCS". The fonts of the wordmark were ITC Benguiat Condensed Book on its name, and Helvetica on its byline.
2002-present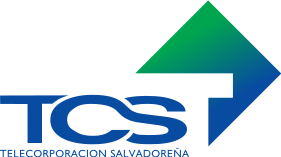 The logo is a rhombus with a blue & green gradient (symbolizing respectively the land and the sea), in which the letter T is reflected on its lower-left corner. The font of its wordmark Gill Sans Nova Medium.
Community content is available under
CC-BY-SA
unless otherwise noted.