This page only shows primary logo variants.
For other related logos and images, see:
Telecorporación Salvadoreña (TCS for short) is a Salvadoran broadcaster service, founded by Boris Eserski on November 1, 1985 with a fusion of channels 2, 4 and 6 from San Salvador.
1985-2002
The first logo was introduced with a blue logo. It consisted with three numbers as Salvadoran channels inside of the square with ten lines as the letters "TCS". The wordmark was a name in Bronzetti font with a television channels in Helvetica font.
2002-present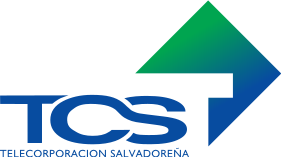 The colors of the company are blue and green, symbolizing between the land and the sea. The logo is a rhombus with a gradient of two colors, joining the letter "T" transparent symbolizing as Telecorporación with a different font of abbreviation. The wordmark consists the name with a Gill Sans Nova Medium font.
Community content is available under
CC-BY-SA
unless otherwise noted.