Telemach is a telecommunications company in Slovenia that started out with only cable television and internet services but ventured into mobile telephony in 2012 when it started operating using its brand on the existing Tušmobil mobile network (Tušmobil itself was acquired and phased out in 2015).
Telemach is owned by the United Group, a Balkan media and telecommunications conglomerate. The Telemach brand is also used in Bosnia and Herzegovina, in Montenegro, and in Croatia although the mobile telephony services are not offered in those two countries.
Telemach (first era)
1999–2005
UPC Telemach
2005–2008
On December 24, 2005, UnitedGlobalCom (now Liberty Global), the owner of UPC, acquired Telemach and changed its name to UPC Telemach.
2008–2009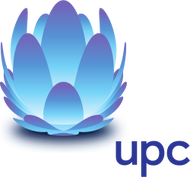 While the logo was entirely changed into UPC, the corporate name, UPC Telemach, was retained. However, this was short-lived as Liberty Global sold the operation to Mid Europa Partners in 2009.
Telemach (second era)
2009–2012

2012–present

When Telemach in Slovenia started mobile telephony services in June 2012, it introduced a new logo, which was also rolled out to the Bosnian and Montenegrin companies.
In 2015 the Tušmobil mobile brand was completely replaced by the Telemach brand.