Telenor is one of three main mobile network operators in the Balkan country of Bulgaria, along with Vivacom and A1. It is owned by PPF Group since 2018, to which the Norwegian parent, Telenor ASA, sold it and its Hungarian, Montenegrin and Serbian counterparts.
Globul
2001–2006
2006–2014
Globul changed its logo to match that of Cosmote, its parent at the time.
Telenor
2014–present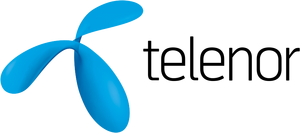 OTE sold Globul to Telenor in 2013, and Globul was rebranded as Telenor Bulgaria.
Telenor sold its Bulgarian operations to PPF Group in 2018, along with its Hungarian, Montenegrin and Serbian operations. However, the Telenor brand will remain.