"Telstra" redirects here.
Contents

1975–1986
1986–1993
1993–1995
1995–1999
1999–2006
2006–2011
2011–present
Telecom Australia
1975–1993
1975–1986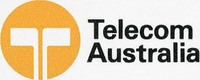 Telstra Corporation was created on 1 July 1975 as Telecom Australia. The original Telecom Australia logo was designed by Pieter Huveneers.
1986–1993

1993–1995

In April 1993, Telecom Australia underwent a rebrand. FHA Image Design was commissioned to produce a new brand image as part of the rebrand to unify the various Telecom Australia sub-brands that would face competition from the deregulated market. This new branding would also help to ease the transition from Telecom Australia to Telstra in the domestic market.
Telstra Corporation
1995–2006
1995–1999

On 1 July 1995, Telecom Australia was renamed Telstra Corporation, in the Australian market. The new name kept the 1993 logo, with "stra" taking over "ecom". This logo is still seen on older pay phones.
1999–2006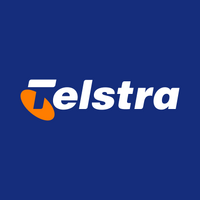 In 1999, the logo was modified when the 1995 logo is surrounded by a blue box.
2006–2011

In 2006, Telstra slightly modified the 1995 logo with the box being removed and the T now has a vertical line. This logo is still seen on older pay phones, as well as exchange buildings.
2011–present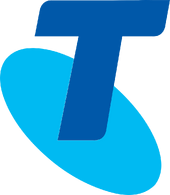 In September 2011, Telstra unveiled a new visual identity which saw its icon adopt 6 interchangeable colour variants of the stylised satellite dish icon.
External links