This page only shows primary logo variants.
For other related logos and images, see:
Bad NES Games
2004
The show started as "Bad NES Games" when James Rolfe (the creator and host of the show) published the reviews of the NES games Castlevania II and Dr. Jekyll and Mr. Hyde on the Cinemassacre website in 2004, which would later serve as pilot episodes of the series. No logo was used during this period.
The Angry Nintendo Nerd
2006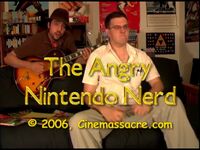 In 2006, James Rolfe started to upload the episodes on YouTube (where the show gained more popularity) under the name of The Angry Nintendo Nerd with the review of the Karate Kid NES game. The opening with the theme song written and perfomed by Kyle Justin (who can be seen in the picture above) appeared in later episodes. Very few episodes were released under this title.
The Angry Video Game Nerd
2006–2007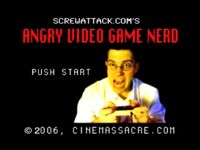 In late 2006, the show was renamed as The Angry Video Game Nerd when Rolfe started to review games from old non-Nintendo consoles and also to avoid copyright infringements with the company itself. The lyrics of the theme song were also slightly altered to fit with the new name. 
This title-card highly resembles the start screen of an old NES game.
2007–present
In 2007, the series started to use an official logo that would be seen at the opening of most videos, merchandise and promotional material. It is as today the most recognizable and longest-live logo of the show.
See also
Community content is available under
CC-BY-SA
unless otherwise noted.