2006 (pre-launch)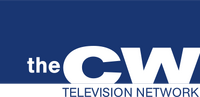 This was a proposed logo used to advertise The CW Television Network when the announcement of the formation of The CW was first made, and was used on air. This logo bears a complimentary resemblance to WGN-TV, a former CW affiliate and was used by that affiliate before network launch.
2006–present
The logo and identity for The CW were created by Troika Design Group. The new logo was presented in May 2006, and The CW launched in September 2006. The logo, which consists of the letter "C" and "W" connected to one another, has drawn comparisons to the logo for Time Warner-owned CNN, though the logo also closely resembles the logotype used by Subway Restaurants from 1968 to 2002.
See also
References
External links
Community content is available under
CC-BY-SA
unless otherwise noted.