The D-Generation
The D-Generation grew out of a series of comedy revues at Melbourne University. A one-hour pilot episode was filmed in 1985 but never made it to air. Several sketches from the pilot made it into the first season. The show ran on the ABC from 13 March 1986 to 2 July 1987.
1986
The first season ran for ten episodes from 13 March to 15 May.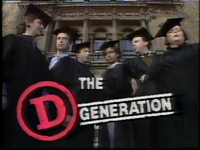 1987
For the second season, each episode had its own opening titles. This season ran for six episodes from 30 April to 4 June. This was followed by four best-of episodes titled The Least Worst of The D-Generation which ran from 11 June to 2 July.
1988-1989
In 1988, The D-Generation moved to the Seven Network for a series of specials.
In 1992, The D-Generation returned to the ABC with their new sketch-comedy/satire program The Late Show.