Contents

2020
2020-2021
2021
Dolphins NRL Bid
September-November 2020
In the wake of the NRL's intentions to expand the premiership to 17 teams, the Redcliffe Dolphins announced their bid for a license on September 22, 2020.
November 2020-2021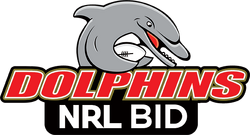 The Dolphins added gold to their bid's colour scheme, coinciding with the release of merchandise.
The Dolphins
2021 Interim
After the Dolphins were officially awarded an NRL license, the consortium overhauled its official website, including introducing a placeholder wordmark. After previously indicating they would replace the 'Redcliffe' part of their name with a broader geographic indicator, the consortium dropped it entirely to be known as just the Dolphins. Sides fielded in lower-level leagues will continue to use the Redcliffe name.
2021 Tentative
The Dolphins are expected to officially unveil their full identity, including a logo, the week after they were awarded the license.
See also