The Moxy Show is known for be the very first show that Cartoon Network has ever produced.
The Moxy Pirate Show!
1993–1994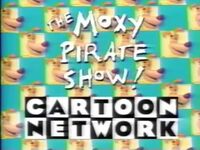 The show ran on December 5, 1993 originally as The Moxy Pirate Show!
The Moxy Show 
1994–1995
In 1994, the series was retitled simply as 
The Moxy Show.
The Moxy & Flea Show
1995–2000
In 1995, the show was renamed again as The Moxy and Flea Show, dispite that, it was still referred by its previous name. The show ended in January 2, 2000.
References
[1]Wikipedia
Community content is available under
CC-BY-SA
unless otherwise noted.