1987-1999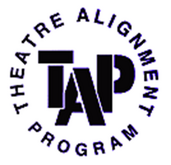 The original TAP logo has the words "Theatre", "Alignment", and "Program" in a circle around the letters "TAP", with its "A" lower than the "T" and "P". Seen on the closing of the first TAP releases until 1999. The first four films to use this logo were Die Hard with a Vengeance (the first film this logo appeared on), Mighty Morphin' Power Rangers: The Movie, Nine Months, and Strange Days and other TAP titles, such as Broken Arrow, Independence Day, Chain Reaction, One Fine Day, Romeo + Juliet, Jingle All the Way, the restored versions of Star Wars Episode IV: A New Hope and Star Wars Episode V: The Empire Strikes Back, Speed 2: Cruise Control, Titanic (although it is replaced by a restoration credit in its 2012 DVD/Blu-ray re-release), and Anastasia.
1999-2002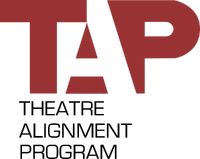 TAP's second logo has a capital "T" and "P" and a triangle and a trapezoid between them to form the letter "A", with the same words from the previous logo (in a different font) below the letters. Can be seen on the end of Star Wars Episode I: The Phantom Menace, the restored version of Star Wars Episode VI: Return of the Jedi, and Pearl Harbor.
2001
Seen on TAP featurettes on The THX Ultimate Demo Disc.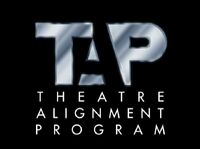 A promotional logo seen on The THX Story. It is similar to the previous logo, except the letters "TAP" are in CGI and the font for the words "Theatre Alignment Program" was changed.
2002
This final TAP logo was only seen at the end of Star Wars Episode II: Attack of the Clones.
Community content is available under
CC-BY-SA
unless otherwise noted.