Thursday Night Special (1998-2001)
1998-2001

Thursday Night Football (2006-)
2006–2007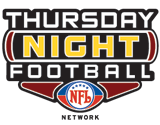 2008–2009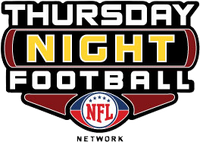 Same as the 2006-'07 logo, with the 2008-2012 NFL Network logo.
2010–2011
Basically the same as the 2008-'09 logo, but in blue.
2012–2013
In 2012, with the change in the NFL Network logo, the TNF logo was amended, with the NFL Network logo moving from the bottom to the top of the TNF logo.
2014–2018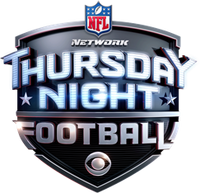 Unveiled during the 2014 NFL Draft (May 8, 2014). Now incorporating the CBS logo, since CBS Sports will produce the TNF broadcasts and CBS will air eight games of the 2014 season (all games will be broadcast on NFL Network, which will produce the pre-game, halftime and post-game coverage).
2016–2018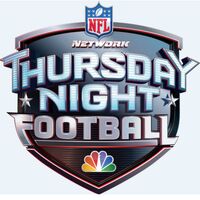 On February 1, 2016, the NFL announced that the TNF package will be shared with CBS, NBC and NFL Network for the 2016-2017 season. CBS and NBC will broadcast 5 games each, with NFLN broadcasting an additional 8 games.
The logo had a slight revision from the previous version, and has three variants: one with the CBS logo, for the CBS Sports-produced telecasts, one the NBC logo (pictured), for the NBC Sports-produced broadcasts and a generic logo, with neither the CBS nor the NBC logos.
2018-Present
In 2018, Thursday Night Football moved to Fox Sports.  The logo used is similar to the one used by CBS and NBC.
Community content is available under
CC-BY-SA
unless otherwise noted.