Times Network is an Indian TV broadcaster and a subsidiary of The Times Group, the largest media company in India. It operates channels primarily in three genres: news (English: Times Now, Mirror Now and ET Now; Hindi: Times Now Navbharat and ET Now Swadesh); Hollywood movies (Movies Now, MNX, MN+ HD and Romedy Now); and Hindi music/Bollywood (Zoom).
Times Television Network
2010-2015

Times Network
2015-present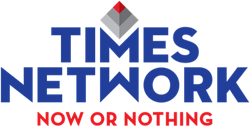 A new logo was introduced on 9 April 2015.