Times Now Navbharat is a Hindi national news channel in India. It is named after Times Now, the English news channel of The Times Group, and Navbharat Times, its Hindi daily newspaper. It was launched on 1 August 2021 only in HD (high definition), while the HD feed of Romedy Now was shut down simultaneously. An SD feed was added by Indian DTH platforms in December 2021 before its official launch on 1 January 2022.[1][2][3]
Some of its major competitors include ABP News, Aaj Tak, India TV, News18 India, Zee News, NDTV India and more recently Republic Bharat and TV9 Bharatvarsh.
2021–2022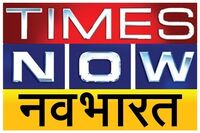 2022–present
On 14 April 2022, the logo was changed to fit the words Times and Now in the same line, a couple of days after it had been moved from the bottom right corner of the screen (used by other Times Network news channels) to the top right corner used by most other Indian news channels.
References