Pure FM
2004-2010
Radio 21 was split in two new radio stations Classic 21 and Pure FM.
2010-2015


A new logo for Pure FM was unveiled on November 25, 2010.
Pure
2015-2020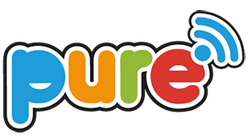 Tipik
2020-present

On September 7th, 2020, RTBF merges the brands of La Deux and Pure FM to create Tipik, the new digital platform/TV channel/radio station aimed to young adults (more specifically, millennials).